Understanding hardware auditing
Definition of audit
A planned and documented activity performed by qualified personnel to determine by investigation, examination, or evaluation of objective evidence, the adequacy and compliance with established procedures, or applicable documents, and the effectiveness of implementation. Projectauditors.com
Our definition
Our definition of hardware auditing & inventory is a combination of the above terms and words. A combination of traditional asset management and the auditing of objects/items. From this we have defined what we believe to be hardware auditing at Capital as a service.
The purpose of hardware auditing and inventory is to locate and identify hardware equipment. The ultimate result is the creation of a master asset register, also known as a configuration management database (CMDB). A bespoke service allows for the tagging of all equipment with serial numbers and organised on to MS Excel documents. Capital Hardware Auditing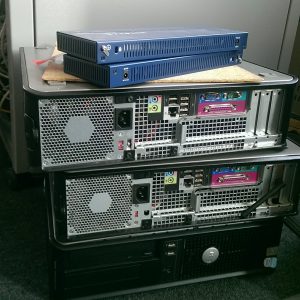 IT Asset Management Services
Benefits of hardware auditing
Control Costs & Value of Assets – See where your IT investment have been made within your organisation. Reduce the hidden cost from using your own, higher paid, IT team to perform audits. Asses the total value of your hardware assets.
Control Ownership – See instantly who owns an asset in your organisation.
Change Management & Asset Life-Cycle – Need to upgrade equipment or reallocate resource? Identity current and potential hotspots for upgrade/decommissioning.
Management Service Level Agreements – If equipment is leased you can monitor supplier performance against service level agreements for failures in contractual delivery.
Tax – Accountability needs to be taken for every asset within an organisation. Tax is paid on all company assets, having an up-to-date database may allow you to save money by not paying for items that don't exist. Items also depreciate over time, which also needs to be accounted for.  More information over at HMRC = Assets.
IT Help Desk – IT help desk need to be able to identify software/hardware problems by locating items. An up-to-date database allows them to pin-point and solve issues quicker.
Time & Money – Hardware auditing is time and cost effective, especially within large organisations when time equates to valuable profit. A professional service can ultimately save money in the long term.
Comments
After the publication of this blog post it was shared on various LinkedIn groups. Below are some of the response we had in response. [Update – 30th July 2014]
Comments from Data Centre & Build Professionals – LinkedIn
Roy Culligan – Critical Facilities Specialist & Consultant
It's interesting that most of the comments refer to the pure economic side of hardware auditing with only a fleeting reference to operational benefits. I think this should be addressed to give equal if not a higher priority to the operational aspects of such an audit – don't forget, you can't manage what you don't know you have in your inventory.
Mark Harris – Vice President, Marketing & Strategy at Nlyte Software
Roy makes a great point. It would be great to see hardware audit tied to the very starting point of data center operators' desire to become more responsive to their users needs. Sure there are many financial aspects to just knowing what gear is 'on your books', but in the production world, its likely more fiscally important to manage the lifecycle of assets. In this case, asset lifecycles could start when they are inventoried. The inventory process in actually an ongoing process, confirming the inventory impacts that various change management processes have.
I always advocate that asset lifecycle management begins with a great full inventory, then change management processes occur for 3 or 4 years. If designed well, those change management processes themselves should adjust the inventory model, with a periodic AUDIT to assure that the model still reflects reality.
The operational value of inventory audit is tremendous. It provides the basis for new projects to be executed. Hardware audits confirm not just what gear is where, but also how its connected, who owns it, when it was put in service and when it is to be retired.


Hardware auditing is a core service of Capital. We can provide you with a free no-obligations quote on 0800 013 2182 or alternatively you can fill out our regional quote form on the main page.
34 Everyday Things You Need To Be Cleaning Regularly
Definition: What is Procurement
The Death of the PC? Timeline – How Computer Have Changed
23 Most annoying office habits and mysteries
Tech City Croydon: The growth of the Silicon Valley of South London
10 Facts: Putting IT cleaning on the Beckenham map
Dirty Keyboards and Smartphones contain more germs than toilet seats
7 Tips: How to keep a  clean and germ free office