"Our Comms and Server Rooms had not been cleaned for many years, with a wide spread of areas throughout the various buildings we occupy within South London, the schedule had to be planned with precision, added to this we are working within a mainline Hospital, this adds to the uncertainty of what happens on a day to day basis."
Infrastructure Manager
"Due to their Comms Room having not been cleaned for many years the overall condition was varied due to some technical room being older than others."
Delivering a service within a live 24-hour environment is always challenging, added to this that the staff would be moving through the public areas added to the need for discretion.
"A team was allocated to our site for a period of time to ensure the predetermined schedule was delivered. All Server Rooms were completed as expected and each area was signed off as it was completed."
Back in June a well-known London hospital got in touch with us about having their 58 comms rooms cleaned, these are spread all over South London. As the 58 communications & data centre rooms had never been cleaned before. They were tremendously dirty filled with dust. 22 out of 58 the rooms we recommended a service that incorporated an underfloor clean which enabled a cleaner air flow throughout these rooms.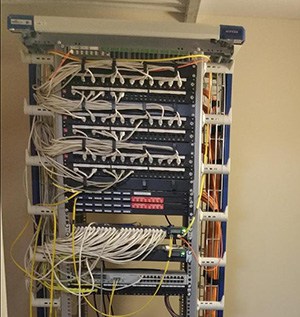 After commencing work in one of the rooms, it was noted that there were some concerns about the condition of the data centre room, this was brought to the contacts attention immediately. After a quick discussion on site, the schedule was amended and works continued as planned, with this room being factored back in once the remedial works had been completed.
The whole job was completed within one month and the clients were very pleased and happy with the service we have provided. They couldn't believe how much of a difference was made within their technical rooms. The client has said that going forward we would like to construct an ongoing schedule of works which allows for flexibility within the working day.